Expert Atlanta gutter contractor at America's Best Choice – The seamless guttering solution for your property! When those storms strike, our local, trained, and experienced contractors will be there to make sure your home can take the blow. Gutters may seem like simple fixtures. But, the importance of these vital components that run along the edge of your home's roof should not be understated. Gutters are essential for your home's performance, style, and longevity. If your home doesn't have gutters, then you are risking a plethora of problems that you can avoid just by properly installing and maintaining gutters on your house's roof. At America's Best Choice, we repair, replace, and install countless gutters and downspouts in
Atlanta
every year. We are dedicated to getting your guttering solution right from start to finish so that you can enjoy a damp patch-free façade, great roof longevity, and a stable foundation for years to come. Get in touch with our expert Atlanta gutter contractors at
770-910-9700
for a free and accurate quote.
Why Are Gutters Important?
Every home should have gutters. They play a significant role, but we don't even notice that they are there most time. But we should! Gutters help funnel water off your roof and away from your house. Without gutters, you will be forced to deal with puddles outside your home that can destroy the landscape, shifting of your foundation, mold, and many other problems. Other reasons why gutters are essential in any home include:
They help stabilize the soil around the house.
They help avoid foundation problems.
They reduce and sometimes prevent basement and under-house flooding.
They help to preserve the turf and landscape by preventing erosion.
They help reduce water damage on the sides of the house.
They help preserve exterior doors.
What Are the Indications That I Need New Gutters?
The importance of gutters in our homes should not be undermined. That is why they need regular maintenance. But how can you tell it is time to replace or get new gutters? Here are the indications that you need new gutters:
Signs of Cracks and Splits
Gutters can develop cracks and split if you live in a cold climate due to the freezing and thawing of ice. These cracks compromise the work of gutters by letting debris and water seep through.
Sagging Gutters
When gutters are full of water or debris, they become too heavy. They begin to sag away from the house, meaning they will not be able to function correctly. This is a sign that it's time to get new ones.
Cracking or Peeling Paint
When the paint in the exterior siding starts to peel away, it's a sign that the gutters are not functioning properly. This usually means that there could be excess moisture, and you should consider getting new gutters.
Water and Mildew Around the Foundation
Properly functioning gutters are meant to channel water away from the foundation. So, if there is
mildew or dampness
around the foundation, it is a sign you need to replace your gutters.
Water Damage Around the Gutters
Another indication that you need new gutters is water damage. Water stains, puddles, mildew, and rotting fascia beneath your gutters are all signs of water damage that you should look out for.
Rust or Orange Areas
You should also look out for orange patches and rust if your gutters are made of galvanized steel. This is usually a sign of
leakage in the gutters
. If you are not sure about replacing your gutters, consult an Atlanta gutter contractor from America's Best Choice.
Are There Different Types of Gutters?
There are different types of gutters, each with unique features. They include:
K-Style Gutter
Most modern homes have k-style gutters. They resemble the crown moldings on modern homes and have a unique shape on the front edge. The flat backs enable them to be installed to the Fascia Board trim. This flushness prevents water from running down your wall. K-style gutters can withstand more damage than other types of gutters thanks to the rigidity provided by the bends and folds in the metal. They come in a variety of sizes, the common ones being sizes 5 and 6.
Pros
Cheapest option available
Easiest to install
More durable than Half-Round (Rigid construction)
Performance (Can handle more water during heavy rain)
Modern look
Cons
Clogs Easier
More prone to corrosion
K-style gutter
K-style gutter installation
K-style gutter
Half-Round Gutter
This type is common in older and historic homes. As the name suggests, half-round gutters resemble a circular pipe that has its top half cut open. Since most are made from copper, they are more rustic than other types of gutters. Half-round gutters also come in galvanized steel, vinyl, or aluminum. Like K-style gutters, they also come in sizes 5 and 6. The inner part of these gutters is very smooth owing to their half-circle shape. This ensures less corrosion and clogging since debris has a clear path.
Pros
Rustic look
Easy to clean
Less likely to rust or corrode
Less likely to clog
Cons
More expensive
Takes longer to install (Higher labor costs)
Not as efficient in heavy rains (Handles less water)
Less rigid and are also more durable than K-Style gutter
Heavier and become loose quicker over time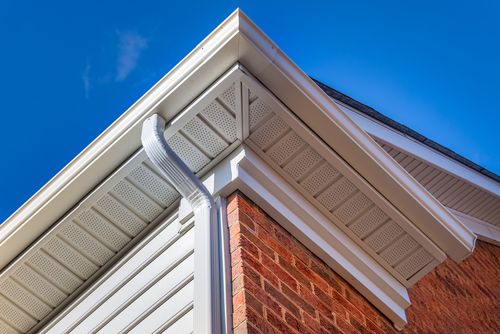 Box Style Gutter
Box-style gutters are another popular type of gutters that you are likely to see around. Due to their oversized nature, they are common in industrial and commercial buildings. They are often installed on buildings with large roofs because they can handle vast amounts of water. Unlike other types of gutters, box-style gutters do not hang on the edge of the roof. Instead, they tuck under the roof shingles, meaning they have to be installed during the building's construction. This design helps to prevent water from getting into the building along the edges of the roof. They are available in larger sizes 7, 8, and 10, with 7 and 8 being the industry standards.
Pros
Easy to repair
Transport more water than K-style
They blend seamlessly with your home
Large gutters for big homes or commercial buildings
Tons of customization options
Can be made from many different materials
Durable and long-lasting
Easy to clean
Cons
Not as intricate-looking as K-style
An Atlanta gutter contractor can help you decide whether your property needs a K-style, half-round, or box-style gutter.
Are Gutters Available in Different Materials?
Aluminum, vinyl, copper, and galvanized steel are the primary materials used for making gutters. While K-style and Half-Round gutters are available in any material, the more old-fashioned Box-style gutters are only available in aluminum or copper. Let's go through each material's pros and cons.
Aluminum Gutters
Pros
Affordable
Lightweight
Rust Resistant
Easiest to install
Available in a variety of color options
Cons
Prone to damage by extreme temperature fluctuations (can warp)
Copper Gutters
Pros
"Patina" look
Heavy Duty (thicker gauge than aluminum)
Cons
Most expensive
Heavier so they come loose more often
Galvanized Steel Gutters
Pros
Strength (Can handle large amounts of weight)
Cons
Very Heavy (Gutters come loose more often)
Expensive
Rust very easily
Vinyl Gutters
Pros
Affordable
Easy to install (for DIY people)
Waterproof
Cons
Cheap material (bends easily)
Only available in white
Why Should I Use America's Best Choice to Replace My Gutters?
The professionals at America's Best Choice are well trained, experienced, and have the right tools and certifications. You can rely on our Atlanta gutter contractors for professional installation and maintenance of your gutters. Should you decide to work with us, you will benefit from our:
Speed and accuracy
Expertise
Fully trained and experienced crew
Professional support staff
Quality tools
And much more …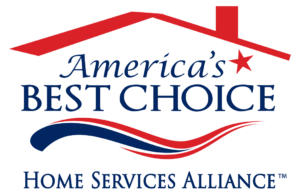 Get a Free Estimate for Gutters and Downspouts in Atlanta
Selecting the right gutters for your property takes time and money – not to mention the task of choosing a trusted and experienced gutter contractor to install them. That's why turning to
America's Best Choice
for gutter maintenance, replacement, and installation is your absolute best choice and will offer the best value for money. With many years of experience in the gutter replacement and installation business, we always make sure that our clients get nothing short of professional assistance and constant communication from start to finish. Contact our Atlanta gutter contractors at
770-910-9700
and let us know what you need. We offer a free estimate.