As a homeowner, making sure your property is safe, secure and up to code is one of the most important responsibilities. Just like other investments in life, your home needs upkeep and maintenance as years go by for maximum safety and comfort. The roof is one of the most important parts of a house, but many tend to forget about it, as it's usually not in the line of sight.
However, roofs require, in some cases, replacement. Unfortunately, the need for a roof replacement may not be always apparent and that's why it is important to be informed.
As expert Atlanta roofing contractors in the roofing industry, it is our responsibility to provide information and professional service in this field. If you need professional insight regarding a roof replacement, do not hesitate to call our office at 678-498-7232 today!
How Do I Know I Need a New Roof?
While in most cases it's easy to tell when you need a new roof, it's not always obvious. Our Atlanta roofing contractors can help you to assess if your roof needs replacing. Here are some of the common signs it is time for a new installation:
Damaged or Missing Shingles
Missing or damaged shingles are never a good sign. This happens when the shingles weaken and the adhesive holding them in place begins to separate. At this point, all it takes is a relatively strong wind to blow off the shingles.
While a few missing shingles don't mean the end of the world, it's best to call a professional for a thorough inspection to determine the roof's structural integrity.
Bare Shingles Without Granules
A asphalt shingle is covered with small granules to both protect the asphalt and make the shingle look appealing. Over time, however, these granules wear off and deteriorate the asphalt. Once enough has worn off, the shingle deteriorates leaving the roof susceptible to the elements.
Leaking
One of the most common signs you need a new roof is a visible leak. However, leaking can happen due to an array of reasons, ranging from storm damage to worn-out materials. As the roofing materials weaken, water can make its way into the house.
This results in water intrusion and visible puddles, particularly during rainstorms. In some cases, small leaks can be fixed, but they tend to go undetected until they are much bigger and call for a larger fix.
If you notice persistent or multiple leaks in your roof, it is time to get a new roof. Hiring a company like ABC Win is the best to figure out the extent of the damage. Call our Atlanta roofing contractors today to schedule an inspection!
Substantial Moss Growth
Moss tends to thrive on surfaces that do not get much sunlight, particularly in moist regions. Moss ruins the look of your roof, but the downsides don't stop there. Moss retains moisture against the surface of the roof and with time, leads to the damage of granules on the shingles.
Moss is easy to brush off, but it is stubborn, and will quickly grow again. Substantial moss growth can take a toll on your roof, causing the need for a replacement. Call the Atlanta roofing contractors today to learn more.
Your Roof is 20 Years Old
While most shingles nowadays are designed for durability, there are numerous factors that accelerate the aging of these roofing materials. For instance, if your roof is not well ventilated, it can have a negative effect on your shingles even if the roof seems to be in good condition from the naked eye.
If your roof is two decades old, it is time for a thorough inspection and possibly a new roof, particularly if you moved into an older house.
Rotted Roof Sheeting- The Roof is Spongy When You Step on It
When the roof feels spongy when stepped on it is a sign you are dealing with rotten sheeting. A decaying roof is a sign that your roof is near its end and it is time to schedule a new installation.
What Are Some Reasons to Consider a Roof Replacement?
While there are several reasons that you would consider replacing your roof, our Atlanta roofing contractors report that the top four reasons to consider a roof replacement are:
Fixing Storm Damage
Storms are notorious for causing both direct and indirect damage to roofs. Storms can blow off the shingles, creating spots that need fixing. They can also cause branches or entire trees to fall on your roof, causing substantial damage. While you can resolve storm damage through spot repairs, an entire roof replacement is often recommended, especially if you haven't inspected or maintained the structure for the past several years.
Increasing Property Value
When looking to sell your home, you certainly want to get the best value and this often entails making home repairs and improvements that will boost its curb appeal. With a new roof, it means homebuyers will not have to worry about repairs and replacements in the near future. This gives them financial security and boosts the value of your home in return.
To learn more about how a roof replacement could add value to your property, call our Atlanta roofing contractors today.
Completing a Large Remodel Project
If you intend to remodel your house, you may want to consider making changes to the roofline. This includes getting a new roof to avoid having an odd combination of old and new roofing.
Replacing a Worn Roof
The roof is always exposed to the elements and will ultimately sustain damage from factors like storm damage, moss growth, ice dams, etc. Rather than waiting for these issues to escalate, it's wise to invest in a new roof. Call America's Best Choice to set up an appointment for a free estimate with one of our Atlanta roofing contractors.
How Long Does a Roof Replacement Take?
The time it takes for a roof replacement depends on an array of factors, but with professionals like our Atlanta roofing contractors, it takes between one and five days for an average-sized home.
What Types of Services Does ABC Win Provide?
Our Atlanta roofing contractors are experts in the roofing industry with years of experience. We provide an array of services including:
Full roof replacement
New roof installation
Door installations
Door replacements
Window installations
Window replacements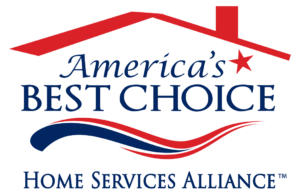 Why Hire the Atlanta Roofing Contractors at America's Best Choice for Your Roof Replacement?
Having your roof replaced is a huge investment and you might be wondering why we are the right fit. In addition to years of experience in Atlanta and the surrounding areas, our Atlanta roofing contractors at America's Best Choice also have unbeatable warranties and guarantees to assure you are getting quality materials and services. We also have affordable rates and work in transparency and within your time window.
If your roof is no longer functional for whatever reason, call our Atlanta roofing contractors today 678-498-7232 for a quote!