Most people will argue that the siding on your house is the most important exterior feature. This might actually be true because your siding is the most significant aesthetic appeal statement, showcases your property's style, and protects your property's structure. Aged or damaged siding is not only an eyesore but can also reduce the value of your property. It can also lead to a ton of issues ranging from moisture damage to high energy bills. This is why it is imperative to work with a skilled siding contractor in Atlanta to ensure the proper installation and maintenance of your property's siding. At America's Best Choice, we offer quality and reliable siding installation, replacement, repair, and maintenance services. For affordable siding services, do not hesitate to reach out to our
Atlanta contractors
at
770-910-9700
. Get your free quote today.
When Do I Need to Replace the Siding on My House?
The average homeowner may not know
when they need to replace their home's siding
. But a professional Atlanta siding contractor surely will. While different types of siding have unique characteristics, you should look out for the following signs:
Cracked or Loose Siding
If after an exterior home inspection you find cracked, split, or loose siding on a large scale, it might be time to consider replacing them.
Faded or Peeling Paint
Another indicator that your siding might need replacement is requiring more frequent painting due to severe peeling and fading.
Rotted or Warped Siding
If your siding softens and begins to rot or warp, it is time to replace it. If the material under the boards along the gutters is soft and easy to poke into, it might indicate severe irreparable rotting damage.
Holes or Damage
Holes, dents, and bumps are evidence of storm and insect damage, leading to even more significant and costlier problems.
Mold or Mildew
Water damage can lead to various types of growth such as
mold
, mildew, fungus, or algae which can be a serious issue. If there is too much growth in your home's siding, then you might need to replace them.
Bubbles in Exterior Paint, Water Stains on the Interior, or Swelling
Bubbles in exterior paint, water stains on the interior, or swelling might be a sign that your siding is struggling to keep the elements outside your home. This is also an indication that your property's siding needs replacement.
A Sudden Increase in Heating and Cooling Bills
When your energy bills increase significantly and inexplicably due to weakened insulation or unseen gaps in your siding, it might be an indication that your siding has stopped functioning. At this point, you should consider an inspection to figure out whether to repair your current siding, install additional insulation, or get new siding.
What Are the Different Types of Siding?
Knowing the right time to upgrade the siding of your home is easy. On the other hand, selecting the correct type of siding material is not quite as simple. There are various materials, each offering unique benefits in terms of aesthetics, price, energy efficiency, and durability. The average homeowner will not know much about the best material. But, an Atlanta siding contractor can help you make an informed decision based on your styling and budgeting needs. Here are some different materials to consider.
Vinyl Siding
Being durable, relatively cheap, and versatile in color and styling options, vinyl siding is the most popular choice in the U.S. They also come in various profiles, including scallops, shingles, shakes, dutch lap, and vertical or horizontal panels. With a majority of vinyl siding having a 30-40 year post-installation warranty, you can expect it to last up to 50 years.
The pros of vinyl siding include:
It is durable.
It is versatile in color and textural options.
It is easy to clean.
It is the most economical option.
Cons of vinyl siding include:
Extreme weather conditions can leave dents and marks
Once you select a color, there is no going back.
It is not waterproof.
Wood Siding
Wood has been in use ever since siding became a thing. It is quite a popular siding material because of the numerous options for style and appearance.
Pros of wood siding include:
Installation is easier and quicker because wood is lightweight
Wood comes in many sizes, and installation can be done in several patterns.
It is very customizable since you can paint it in custom colors.
Wood allows for a flexible budget with different types of wood to choose from.
Cons of wood siding include:
It requires constant maintenance, which sometimes can be costly. You will need to repaint them every 4-5 years.
It is prone to damage by water and insects over time.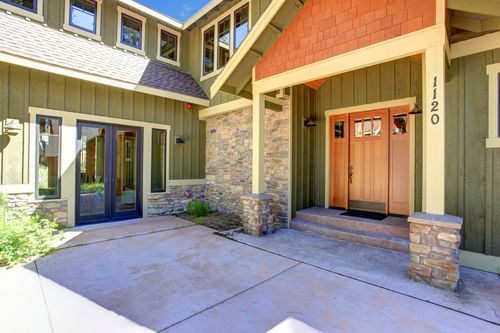 Fiber Cement Siding
Fiber cement siding is a composite material made from wood, sand, and cement, which can be made to look like any other material, even wood.
Pros of fiber cement siding include:
It has little maintenance costs, requiring repainting every 10-15 years.
It is resistant to fire
It is not susceptible to insects.
It offers more versatility in terms of finishing and texture.
Cons of fiber cement siding include:
It is more expensive than its competitive counterpart vinyl.
It is pretty heavy, meaning you will require an extra man during installation.
It produces a lot of dust if not cut properly.
Aluminum Siding
Aluminum siding does not break or crack. It can last up to 50 years when appropriately installed since it requires little maintenance like cleaning and painting. The good thing with aluminum siding is that you can change the color without replacing it.
Steel Siding
Steel siding is resistant to moisture and scratching. Besides, it holds color well and doesn't rust easily. Although it is expensive and difficult to install, it is pretty durable, lasting over 50 years. Once you install steel siding, you will be set for decades to come.
Why Choose America's Best Choice for Siding Replacement?
Selecting and buying the right siding for your home is a big decision. But, you will only get the full benefits of your new siding if it is installed or replaced correctly. Choosing the best siding is just as important as selecting the right contractor. At America's Best Choice, we provide the best siding replacement and installation services in Atlanta. Here is why you should consider hiring an Atlanta siding contractor from America's Best Choice to replace your siding:
We offer a variety of services. Apart from replacement and installation services, we also provide inspection and maintenance services.
Top-quality craftsmanship: Our contractors are skilled, qualified, and well-equipped. Besides, they have all the right tools to do quality work.
Experienced: Having worked on numerous projects for many years, we have loads of experience providing house siding services.
We offer our siding services at affordable rates. For the best siding replacement, installation, and maintenance services at pocket-friendly prices, choose America's Best Choice.
Speed and Accuracy: Once we agree on a particular timeline, we will work with speed and accuracy to complete the project within the set time. If we promise to finish the job in a day or a week, you can take our word for it.
Qualifications: Our technicians are certified and well-trained. Having gone through college and vocational training programs, you can trust them to offer the best services.
Our technicians are licensed and insured. At America's Best Choice, we understand the importance of licensing and insurance. That is why all our handymen are insured and licensed. We also ensure that our contractor's licenses are always up-to-date.
Looking for a Siding Contractor in Atlanta? Call America's Best Choice
Old and damaged siding can affect your home's value, curb appeal, and energy efficiency. For this reason, make sure to inspect your house regularly to see if you need to replace its siding. At
America's Best Choice
, we offer inspection, installation, replacement, and repair services for all types of siding at affordable rates. Contact our Atlanta offices and contractors at
770-910-9700
for premium siding repair, replacement, and installation services.