Regardless of how classy your home might be, people will judge the value of your home depending on what they see, and that is the doors. Equipping your home with high-quality doors increases the home's thermal insulation, improves the thermal insulation, and ensures the security and privacy of the people inside.
Doors come in varying sizes, construction materials, and designs. Although you may want to install a classy door in your home, identifying one that matches the value of your home and your personal preferences might be challenging. As America's Best Choice, we are there to help solve this puzzle for you. We will evaluate your home, consider your preferences and personality, and then advise on the best door design, size, and build quality for your home.
Our expert team is ready to install the door for you professionally, exceeding even your expectations. You can start the repair, replacement, or installation journey by filling our form or call us at 614-820-1766. Get your free quote today on replacement doors in Columbus, OH!
What Are the Benefits of High-Quality Doors?
Below are the top 3 reasons you need high-quality doors for your home:
Improve Security
High-quality doors feature a multilayer construction that makes them difficult to break. Some of these doors come with several locking mechanisms with steel reinforcement, further improving security.
Increase Aesthetic Value
Doors are the first things that visitors see. Equipping your home with high-quality doors makes it look classy and modern. For the latest designs, contact us at 614-820-1766, and we will guide you.
Improve Energy Efficiency
High-quality doors have better thermal insulation, ensuring the home remains cool even when it is hot outside and remains warm even during winter. This insulation reduces the air conditioning unit's duration, resulting in reduced power consumption and electricity bills.
Types of Doors We Offer
We offer a selection of styles and types of doors. The following are some of our most popular options.
Entry Doors
As the name suggests, entry doors are the main front doors at the entrance of a home. These doors come in various designs, build quality, and sizes. Entry doors should reflect the value of the house and the personality of the homeowner.
When choosing entry doors, you need to ensure the construction is sturdy enough, as it's the primary point where burglars break into the house. If you are confused about the entry door design and size that will match your home, contact us at 614-820-1766, and we will be happy to guide you through the process.
Double Doors
Double doors are similar to the vertically hinged doors, only that they are two in the same door frame and meet when closing. You can use double doors as the front door as they are large and makes the room look spacious. Like other door types, double doors come in varying sizes and built qualities. If you need a double door, get in touch, and we will help you install it.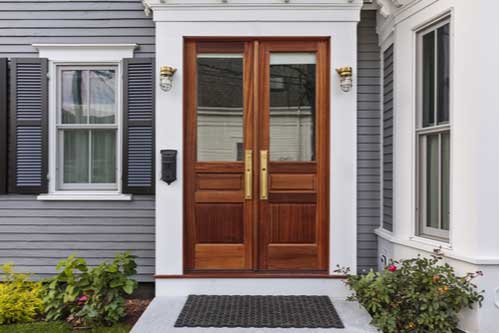 Sliding Glass Doors
Sliding glass doors are sliding doors that feature glass panels as the primary construction material. These doors slide horizontally on their channels using rails and runners. These doors hang on hangers that run in the channels.
The design of these doors makes them ideal for places where space is an issue, as they don't take up much space. Also, the impressive design of these doors improves the aesthetic value of the house. If you have a room that you would like to fit sliding glass doors, call us at 614-820-1766, and we send our team of experts to help install.
Swinging Glass Doors
Swinging doors feature hinges as the pivots like the hinged doors, only that they open in both directions. Unlike hinged doors, these doors come with a shutter that has spring hinges on the frame, allowing the door to open in both ways. The design of these doors will enable them to open at the slightest force and close immediately.
The swinging glass doors feature glass panels as the primary construction material. These glass panels allow you to see a person on the other side of the door, preventing possible accidents. Swing doors allow easy movement as you only need to push the door as you walk, and it will close itself. If you want this convenience e in your home, call us today, and we will arrange for a replacement or installation.
Storm Doors
While Ohio is not typically stormy, strong winds, storms, and even tornados do occur from time to time. Such elements can break the front door quickly, and you will be at risk, and your home will be messy. You can protect yourself from such storms by installing a storm door. Storm door designers design them with storms in mind, so the construction is sturdy enough to withstand these forces.
These doors are installed in front of the entrance doors to shield them from storms. Some materials that construct these doors include fiberglass and steel, making them stronger than wooden and plastic doors. We can evaluate your home and help you install the right storm door.
Why Choose America's Best Choice? America's Best Choice Difference
Many companies claim to offer the best door installation services, and you might be confused about which one to choose. Below are things that distinguish us from other companies when it comes to door installation:
Fast Response: Whether it's a weekend or a holiday, we respond quickly to our customers
Prompt services: Our experienced team of experts won't take long to install or replace a door
Reputation: When it comes to customer service and performance, our satisfied customers can speak for us
100% Guarantee: We offer a customer guarantee on our products and installation services, implying our confidence in what we do
Licensing: We have all the legal certifications needed to operate in this field
Workforce: We have a team of experts that installs the doors professionally
Transparent: We are transparent and honest in our products and services
Pricing: We offer an upfront pricing approach with no hidden charges
Contact America's Best Choice for Replacement Doors in Columbus, Ohio
Whether you want to make your house stylish or sell it, equipping it with high-quality doors is the first step. Doors are not only important for appearance but also security. The varying door types make choosing the right door for your home challenging. You will want to go with professional installation to ensure the door functions properly and doesn't damage the walls and floor.
At America's Best Choice, we have vast experience in repairs, replacements, and installations, and we are committed to offering the best to our clients. Our skilled workforce will help you choose the door and install it professionally. Call us at 614-820-1766 for guidance and installation plans. Request your free quote today!