A beautifully crafted, custom deck or fence has the unmatched ability to enhance the appeal and value of your outdoor living space. To ensure that it is installed correctly, however, you must partner with the right professionals.
If you are looking for the best deck contractor and fence contractor, look no further than America's Best Choice. We will work closely with you to make your dream of a breathtaking deck or fence a reality. Call us today at 770-910-9700 for an estimate.
What Are the Benefits of Having a Deck?
You should consider having a deck for the following reasons:
Improved Property Value
A professionally done addition to your home such as a deck almost always improves the value of the property. Even if you plan to sell the house in the future, a deck can substantially boost the resale value depending on the quality.
Adding Functionality
Decks offer greater functionality to your home with various outdoor living benefits that are useful throughout the year. For instance, if you have a deck with a roof or awning, you can easily accomplish the feat of grilling food in the winter.
Increased Livable Space
Having a deck is also a great way to increase your home's livable space. You will now have new places where you can play, work, enjoy time with the family, and even have more room for storing your outdoor belongings.
Improving Yard Aesthetics
Having a deck can also add to your yard's aesthetic qualities too. The visual quality of a nicely finished deck has the potential to transform your plain-looking yard into a palatial one with just a bit of planning.
Low Maintenance
Unlike most rooms in your house, decks are fairly low maintenance and require minimal effort to keep looking great. You don't need to constantly sweep or wash the deck. They also don't require much upkeep, either. A decent weatherproofing stain is enough to last for years.
What Are the Benefits of Having a Fence?
If you are still unsure about whether or not to install a new fence or hire a fence contractor, here are the benefits of having one:
Shelter
The elements have the potential to wreak havoc on your home and yard. However, having a privacy fence can protect your backyard and garden from the wind and provide shade from the sun.
Protection
The elements might present a real issue, but unwanted guests on your property are actually a far greater problem. If you have a fence installed, however, your home will be protected from both humans and animals entering your property without your permission.
Decoration
A properly maintained fence helps to add character to a home. For instance, you can stain or paint wooden fences any color thus adding a bit of style to your backyard. A fence can also improve the curb appeal of your home.
Noise
If you have noisy neighbors or there's constant construction going on in your neighborhood, you can count on a privacy fence to help with that. It acts as a sound barrier that keeps unwanted noise out of the yard.
Maintenance
If you have a quality privacy fence, the maintenance required is minimal. For instance, if you have a wooden fence, all that's needed to keep untreated wood safe from the elements is a few coats of varnish.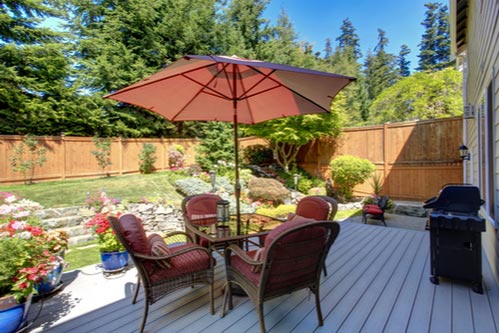 What Are the Different Types of Decks?
Decks can be categorized based on the types of materials used or the different styles available.
Types of Decks
Deck materials are the easiest way to classify the different types of decks. The material selected will directly affect the maintenance, durability, and budget required to build it. Here are the different types of decks based on the materials used:
PVC/Vinyl Decks
Composite Decks
Pressure Treated Wood (Redwood, Cedar, etc.)
Styles of Decks
The other way to look at the different types of decks is by the style of the build. Consider how you would like it to look and what you plan to use it for.
Here are the different styles of decks:
Rooftop
Attached
Detached
Multi-Tier
Wraparound
What Are the Different Types of Fences?
The most common types of fences are:
PVC/Vinyl Fence
Wood Fence
Bamboo Fence
Electric Fence
Aluminum Fence
Brick Wall Fence
Chain Link Fence
Wrought Iron Fence
What Are the Types of Materials Used for Decks and Fences?
The same materials can be used to build both decks and fences, including:
PVC/Vinyl
Composite
Pressure Treated Wood
Natural Wood
I Can Swing a Hammer. Why Should I Hire a Professional vs. DIY?
It is generally advisable to hire a professional for fence or deck installation as opposed to DIY for the following reasons:
No surprise costs
Guaranteed quality
Increased property value
Saving money
Avoiding problems and complications that may arise
Why Should I Hire America's Best Choice?
You should hire America's Best Choice as your deck installation or fence contractor for the following reasons:
Quality Materials
You can always count on America's Best Choice to use the best quality products available on the market for your project so you can rest assured that your final product will be something that you are proud to own. With proper maintenance, you can expect the final product to last many years.
Safety
At America's Best Choice we always prioritize the safety of our customers and employees over making money and always work to ensure that they are protected from dangerous situations. We refuse to compromise safety just to increase our profits.
Experience
Our combined experience involves numerous deck installations and fence contractor installations, which gives us a broad range of knowledge in the industry. Our experience also allows us to educate you so that you can make informed decisions about your project and what materials to use.
Choose America's Best Choice: The Quality Deck Contractor and Fence Contractor
If you want to create a beautiful outdoor space that will last for years, you should partner with the right professionals. That's where America's Best Choice comes in. We have been helping homeowners create decks and fences of their dreams for many years now. Call us today at 770-910-9700 for your free estimate.