Your garage door is what separates your car, tools, and sometimes the interior of your home from the elements as well as from theft and vandalism. That's why it makes perfect sense to ensure that it is well fitted and properly maintained. To give yourself the peace of mind that your family, home, and belongings are safe, it is important to call a trusted
residential garage door contractor
like
America's Best Choice
to take care of all your garage door needs. Call us today at
770-910-9700
for your free estimate.
How Do I Know If I Need a New Garage Door?
Here are the most common signs that you need a new garage door and should consider hiring a professional residential garage door contractor:
Damage
Severe weather might have made your house take a beating or you might have forgotten to open the garage door prior to backing your car out. If your garage door is sporting a broken panel, warping, or any other kind of damage, it is probably time for a replacement.
Leaking
Nothing is worse than water getting into your garage and damaging its content. Keep an eye on your garage after it rains to ensure that water doesn't get in. If you have a leaking problem, chances are you need to replace your garage door.
Loud Noises
A
loud garage door
can be more than irritating. A loud garage door sometimes indicates that the machinery is aged and if it becomes too much for you to bear, it could be time for a replacement.
Delayed Response
It is normal for a garage door to take a couple of seconds to respond after pressing the button. If the delay lasts any longer, however, there could be a problem that needs to be addressed by perhaps replacing the garage door.
Old Motor
The older your garage door motor is, the higher the chances that it will start running into trouble. Old motors are also likely to be incredibly loud. If your motor is approaching 10 years or more, a replacement is something to consider.
What Are the Different Types of Garage Doors?
The different types of garage doors include:
Swing Out Doors
Swing-out doors are basically double doors that open up like French doors to your home. The great thing about them is that they provide easy access and are particularly convenient for those that don't use the garage to store a car.
Sectional Doors
Sectional garage doors are flexible and roll up to the ceiling, but they usually have larger panels that run on tracks along the opening of the garage and its ceiling. They are incredibly popular throughout the United States and come in a variety of designs and colors.
Roll-Up Doors
Roll-up garage doors don't run along tracks like sectional doors do, but rather roll up at the top of the garage door opening. You will usually find them in commercial settings, but they can still be used in residential properties.
Tilt-Up Doors
Unlike sectional doors, tilt-up garage doors are made of one solid piece and don't have sections like swing-out doors. Tilt-up garage doors have a pivoting hinge mechanism that allows them to tilt up into the garage.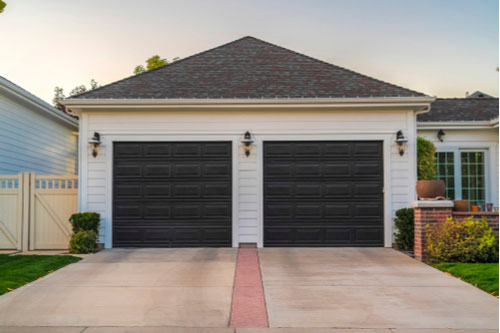 What Are the Different Types of Garage Door Openers?
Garage door openers
come in the following types:
Chain Drive Openers
Chain drive openers are most commonly found in residential properties. The openers run the door along a track and rely on a chain to push the trolley that's connected to a device known as a J-arm that maneuvers the door. The major drawback of chain drive openers is that they can be noisy.
Belt Drive Openers
Belt drive openers might be some of the most expensive, but they are also regarded as the most luxurious and sleekest option. They use a mechanism similar to that of a chain drive opener, but use a belt instead of a chain. That makes them less noisy. The belts are usually made from polyurethane, fiberglass, or rubber.
Screw Drive Openers
Screw drive openers use a trolley system that rides on a threaded steel rod, which rotates using a motor and causes the garage door to open. Screw drive openers don't utilize the push and pull force of the chain drive or belt drive garage door openers.
Jackshaft-Drive Openers
Jackshaft drive openers are installed on the side of the door. They typically use a DC motor that drives cables and pulleys that turn the torsion bar thus raising the door. They can be used with large doors and keep the ceiling free for overhead storage.
Direct Drive Opener
Direct drive openers are the quietest of all garage door openers. They feature a stationary chain in a sturdy rail and have just one moving part located in the traveling motor carriage. They usually come with lifetime warranties.
Why Should I Hire America's Best Choice?
At America's Best Choice, we understand that you have options when it comes to hiring a residential garage door contractor. However, we are committed to providing the best experience possible. That's why you should consider hiring us. Here are other reasons why you should hire our company:
Personal Touch
We are more than residential garage door contractors. We aim to establish rapport with all our customers to ensure the best possible service.
Experience
We have unrivaled experience, which allows us to undertake any garage door task that you can imagine.
Safety
At America's Best Choice, we take all the necessary precautions to ensure the safety of you and your family as well as that of our team during and after each project.
Customizable Services
No two projects are ever the same. That's why you can count on us to customize your garage door services to fit the needs of your home or business.
Affordable Pricing
Garage door service needs are usually unexpected, which means that they can put a strain on your finances. However, we promise you affordable, competitive pricing.
Looking for a Reputable Residential Garage Door Contractor?
Having a garage door that runs smoothly and efficiently is something that people often take for granted. However, if something goes wrong, you want a partner in your area who you can trust for prompt, affordable services. America's Best Choice has been serving homeowners as the premier residential garage door contractor for installation, maintenance and replacement for many years now. We are proud to be the leading specialists in the industry.
Call us today
at
770-910-9700
for your free estimate.